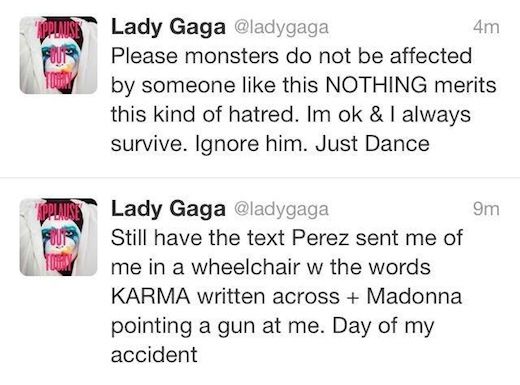 E tira e tira, alla fine Lady Germanotta si è scocciata e ha inforcato Twitter per smerdare Perez Hilton, il rotoletto demmerda che tutti noi amiamo. Probabilmente spazientita dal fatto che ogni cinque secondi netti Perez stia a
twittare
felice di come Kagna Perry la stia battendo nella chart americana, Gaga ha scritto molto semplicemente: "Ho ancora il messaggio di Perez con la mia foto su una sedia a rotelle con la parola "karma" sopra e Madonna che mi punta contro una pistola. Il giorno del mio incidente".
Tie'! E via! Una volta assicuratasi che da quel momento Perez sarebbe stato ucciso nel giro di poche ore da un'orda di Little Monsters inferociti, la Stefani ha cinguettato placida:
"Per favore mostri non lasciatevi condizionare da uno così,
NIENTE
merita questo tipo di ostilità. Sto bene e sopravviverò sempre. Ignoratelo. Just dance"
.
A parte che sono felicissimo di scoprire che la balla buonista gaghiana dello "Stop the drama. Start the music" era, appunto, una balla. Ma Perez mio, fucilati e regala i tuoi organi alla Whiskas, per tutte le ceppe. Poi dice che Azealia Banks era una stronza.
Comunque, Gaga che nomina Madonnaccia il giorno del suo compleanno. Siamo fortunati che il globo non sia stato ancora
inghiottito
in un buco nero.
Fortuna che la Germy si è ripresa subito e ha iniziato a promuovere su LittleMonsters.com la sua apparizione prossima ventura all'iTunes Festival del primo settembre. Lo ha ribattezzato Swine Fest, in onore appunto di Swine, una canzone di ARTPOP della quale ha parlato in alcune recenti interviste.
Ha fatto anche dei disegnini (Swine significa "porco"). Che dolce.