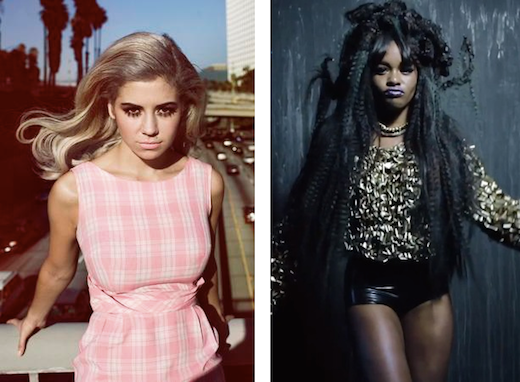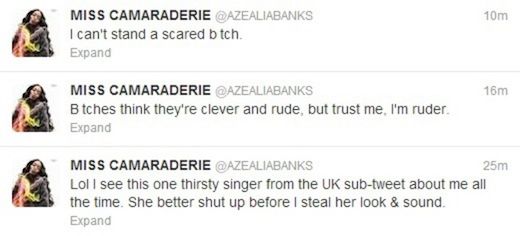 Mai provocare la nostra Azealia Banks, perché finirete per beccarvi una capocciata virtuale e una pioggia di insulti che
manco
Er Monnezza!
La nostra rapper stavolta si è solo "limitata" a rispondere a una frecciata che le avrebbe mandato Marina and the Diamonds la favolosa. Marina scrive su Twitter: "Tutta la tua personalità finisce su Twitter, quindi non ti resta più niente". Come a dire: stai sempre a fare la coatta sui social network, fuori da lì sei una poveraccia.
Sebbene non ci fossero riferimenti precisi, Azealia non si è
certo
fatta pregare e ha inforcato Twitter, rispondendo che 'sta poveraccia dall'Inghilterra le manda delle frecciate ma lei non ci mette niente a rovinarla e a rubarle look e sound, e che con lei le troie devono evitare di fare le cafone perché comunque lei è più cafona.
Insomma: una attitude da
bulletta
che proprio non riesce a tenersi, la nostra Azealia, che ancora non ha un album fuori ma è già riuscita in pochi mesi a mettersi contro una marea di gente (vi ricorderete la querelle sul concetto di "frocio", no?). La domanda è: fa finta, o è proprio una stronza?
Non so, ma un conto è se offende quella deficiente di Perez
Hilton
, un conto è se se la prende con la favolosa Marina. Marina può dire tutto quello che vuole.