Madonnaccia regina assoluta del movimento LGBTQI ieri sera, mascherata da boy scout (o forse aveva
semplicemente
rubato i vestiti all'ultima vittima?), pazzesca ai GLAAD (Gay & Lesbian Alliance Against Defamation) Awards 2013.
Lunghissimo il suo discorso, che per la vostra gioia vi riporterò intero e trascritto (non tradotto, ma voglio dire: siete cittadini del
mondo
).
Madgezilla, sei semplicemente pazzesca.
So happy to be here. I wanted to be a boy scout but they wouldn't let me join. I think that's f***ed up. I can build a fire. I know how to pitch a tent. I have a very good sense of direction. I can rescue kittens from trees.
I want to do good for the community.
And most importantly, I know how to
scout
for boys. So I think that I should be allowed to be a boy scout, and I think that they should change their stupid rules. Don't you? Yeah? You guys don't sound excited enough. Don't you think they should change their rules? Alright, so — you may sit down. Please relax. I have a few axes to grind. I'm not going to talk until you're all sitting.
I want you nice and cozy in your seats. I brought a book in case you take too long and I need to read. Well, I was a girl scout, but I got kicked out. And you want to
know
why? Because my skirt was too short, and I never sold enough cookies. I ate the cookies. Those peanut butter patties are good. Anyway, we already talked about that.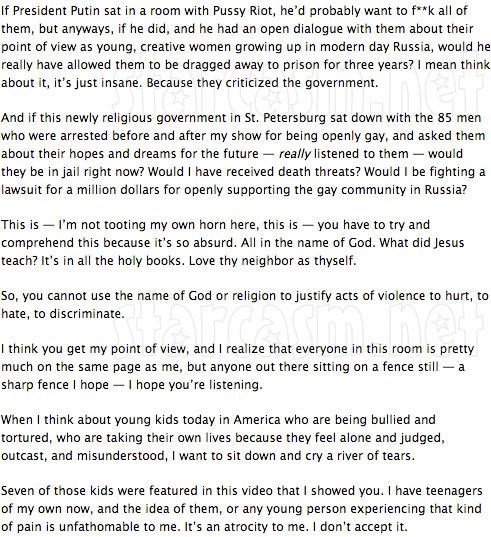 And it's no different — it's no different than a white supremacist hanging a black man from a tree before the civil rights movement. OK? It's no
different
. It's no different than a member of the Taliban shooting a young girl in the head for writing a blog about the importance of [getting an?] education. It's no crazier than an Iranian gay man being hanged for falling in love with a man. I don't know about you, but I can't take this sh!t any more.
And that is why I want to start a revolution. Are you with me? It's 2013 people. We live in America — land of the free and home of the brave? That's a question, not a statement. But, I do love that word brave. I don't fling it around very often. I don't know a lot of
brave
people. In the song you just heard, I sing the line, "it's so hard to find someone to admire," and that is the reason I am here — to give an award to someone I admire, to acknowledge someone who is brave.
Someone who has made a difference in the world by promoting equality and giving a voice to the LGBT community. I am here to honor you, Anderson Cooper.