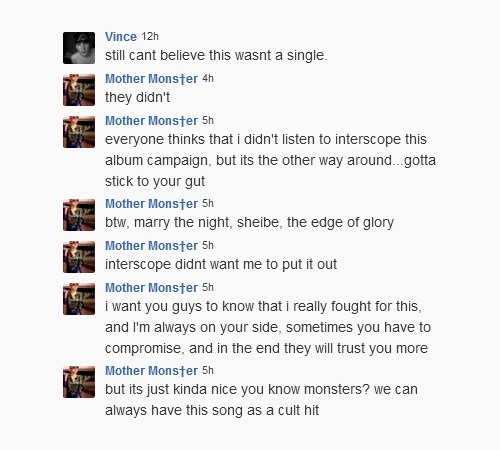 Una Lady Germanotta sempre più scatenata in queste ore, visto che dopo aver tirato fuori il possibile titolo del nuovo album, si è messa a chattare su LittleMonsters.com con i fan (la fonte è LadyGagaItalia) che si
lamentavano
del fatto che Scheiße non fosse diventato singolo.
La Stefani ha scaricato la colpa sulla Interscope, dicendo che non le hanno permesso di selezionare la canzone. Quello che lei voleva era far uscire Born This Way, subito dopo Marry The Night, quindi appunto Scheiße, e solo alla fine The Edge Of Glory.
"Tutti credono che non abbia ascoltato la
Interscope
nella promozione di questo disco, ma è proprio il contrario", ha scritto Lady Germanotta, facendoci pensare che forse di Judas non le fregasse poi così tanto.