sabato 3 marzo: popslut night - show your best side!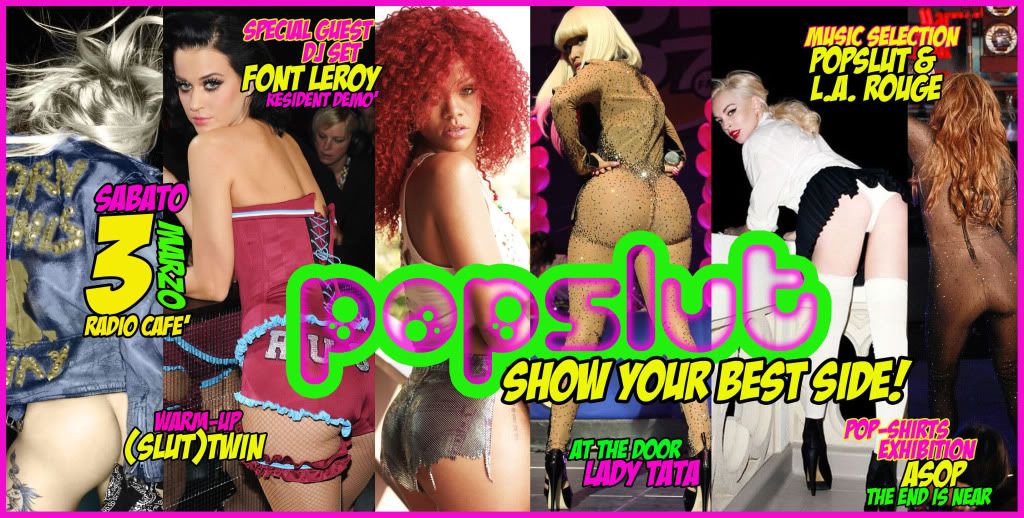 Mr. Photographer, I think I'm ready for my close-up (tonight)




Make sure you catch me from my good side (pick one)


These other just

wanna

be me


Is that money in your pocket or you happy to see me?



Noi dive di un certo livello lo sappiamo bene: non possiamo bere un Vodka Lexotan in pace alla nostra serata preferita, che subito spunta fuori qualche paparazzo che tenta di fotografarci.
E' allora è il momento di tirare fuori il vostro lato

migliore

e agitare le chiome, perché il 3 marzo la popslut night vi permetterà di mostrare a tutti il vostro best side!
La selezione puttan-pop, electro, rock e trash che ci piace tanto, con in più uno special guest DJ set di Font Leroy, il resident di Extravaganza, e un angolo fashion con le creazioni Asop - The end is near.
Più altre

sorprese

che vi faranno venir voglia di gettarvi a novanta gradi sul dancefloor, e potete star sicuri che qualcosa da noi vola sempre.
Solito modo per mettersi in lista: inserite il vostro indirizzo e-mail qui a destra, uno per persona, oppure mandate una mail a mail@popslut.net con il vostro nome e il numero di persone che

sarà

con voi. Qui, invece, la pagina evento su Facebook.